The Velvet Hours by Alyson Richman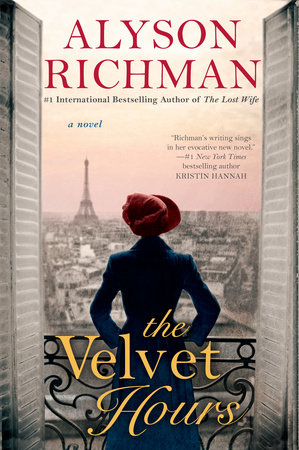 Historical fiction lovers, meet Marthe de Florian, a poor girl who leaves home to become a seamstress during the Belle Epoch.  She takes a wealthy lover and becomes a Parisian courtesan, provided with a beautiful apartment and a monthly stipend which Marthe spends on beautiful clothing, art, and ceramics.  Later in their relationship, her lover Charles commissions a portrait of Marthe by the great painter Giovanni Bellini.
Marthe has a granddaughter, Solange, who also tells her story in this novel.  She is coming of age at the start of the Second World War, and when her father, a pharmacist, is called up, he reconnects with Marthe and sends Solange to live with her.  Just before World War II, Marthe dies.  Paris is no longer safe for Solange, so she locks up the apartment and flees to the South of France, never to return.  The estate pays the rent on the apartment until Solange's death some seventy years later.  The apartment is opened in this century by her heirs, an untouched museum.
What I like:  I love historical fiction around the turn of the century as well as during the World Wars. Two stones with one bird in this novel.  I love stories that come from the truth:  you can't make this stuff up!  I love a little romance-though not graphic-and  The Velvet Hours is a good love story.  I appreciate the familial love depicted as well.  Finally, I love it when writing makes me feel an era; Richman's writing is like a time machine.
My plot summary leaves out a few important points.  I do because those twists, even if you can see them coming, were page turning "ooohhhh…" moments that you want to discover yourself.
For more information about the real Marthe de Florian and her apartment, check out this utube video:
or read more at:  http://sfglobe.com/2015/03/09/paris-apartment-is-locked-up-for-70-years-with-a-priceless-object-inside/