Ray & Joan: The Man Who Made the McDonald's Fortune and the Woman Who Gave It All Away by Lisa Napoli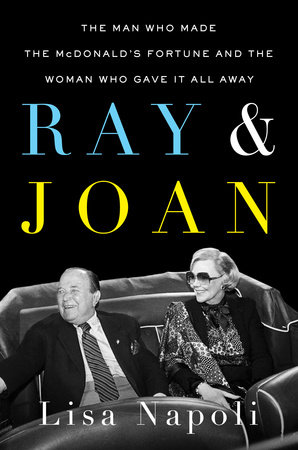 Ray & Joan by Lisa Napoli is a fascinating new biography about Ray Kroc, the man who built McDonald's into a billion dollar franchise, and Joan Kroc, his wife who gave that fortune away.  Ray Kroc was a salesman, peddling milk shake machines when he met the two brothers who started McDonald's in California.  He signed on to help sell franchises and eventually bought out the brothers.  He met Joan when she was playing the piano at the Criterion and he was selling the franchises, and they fell in love, though didn't marry for quite a while.  At the end of Ray's life, his fortune was huge and even included the San Diego Padres.  He and Joan lived the good life, outwardly displaying both their wealth and their generosity, but privately had a tumultuous alcohol infused marriage.   After Ray's death, Joan took stock of her fortune and began her philanthropy in earnest. She was a news junkie, and had a soft spot for those in need.  She couldn't fix everything, but often would listen to speakers or meet people at dinner parties and gift them with million dollar checks.  Many of those gifts didn't match Ray's politics or philosophies, but Joan was generous anyway, often insisting on anonymity.
What I like:  another very readable but not salacious biography from the Mad Men era.  Here were two people who lived large, were cut throat when it came to business and making money, but were incredibly generous.  It is like the hypothetical Power Ball question:  if I win the Power Ball, I will definitely give lots of money to charity.  Somehow thinking of those charities makes my odds feel a little better…Joan had the Power Ball fortune.  There are pages and pages at the end of the book listing her gifts for just a few years, and acknowledging there were many, many more gifts that no one knows anything about. The anonymous caveat to many of her gifts makes book all the more intriguing.  Some of her causes:  recovery for alcoholics, AIDS, nuclear disarmament, the Salvation Army, NPR.
This January, the movie The Founder comes out starring Michael Keaton, Nick Offerman, John Carroll Lynch, Laura Dern, B.J. Novak and Linda Cardellini, and to this reader, looks like a fabulous chaser to Ray & Joan.  I recommend this rags to riches to philanthropy biography about the Krocs.