The Wicked City by Beatriz Williams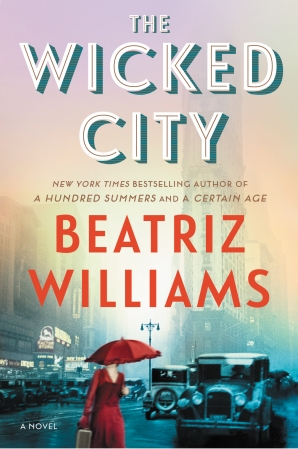 One of my favorite historical fiction authors is back with a new novel featuring two stories in two different eras, linked by an apartment building.  We meet Geneva Kelly, a flapper from Maryland who frequents an illegal Jazz establishment called the Christopher Club.  When the Club is raided and Geneva is arrested, she strikes a deal with the prohibition agent to help him catch her step-father, a major bootlegger in Appalachia.  The second story features Ella Gilbert, a forensic accountant who caught her husband cheating and moved out…into the same building as the Christopher Club.  Ella unravels the mysteries of the building and discovers her connection to Geneva, which will briefly harken back to characters from Williams' other novels.
When I first read Beatriz Williams (her second novel:  A Hundred Summers) it was on the recommendation of my fellow book barista, who has an uncanny ability to discover new authors I will love.  I was hooked and began reading her books as soon as they were published. I liked The Wicked City, especially the portions taking place during the Jazz Age. This time period is definitely one of Williams strengths as a writer.  Geneva's voice is reminiscent of a good detective novel or show; she is tough, a little gritty, strong and brave. I kept picturing Phryne Fischer from the Miss Fischer Mysteries! I thought the Ella portions of the book were good, though not as "signature" for Williams.  Really,  each story could be developed into its own separate novel.
The Wicked City is the start of a new series, and there are plenty of loose ends for future books.  Read knowing there is more to come.