The Girl Before by JP Delaney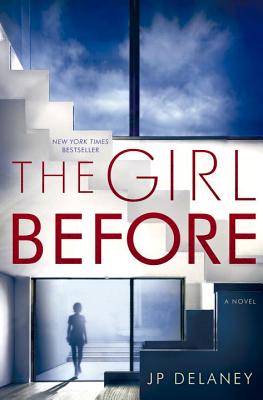 The "girl" is Jane.  She needs a fresh start after a personal tragedy, and looks to rent a nice but affordable place.  She is introduced to One Folgate Street, a house designed by Edward Monkford,  a famous architect who makes his tenants apply to live in this minimalist and dweller sensitive home.  Jane's application is competitive and includes an exhaustive survey with some just this side of odd questions, and is chosen.  After signing a comprehensive contract, she moves in.  The house works with a bracelet Jane wears, design to identify her and anticipate her.  No struggling with groceries and door keys, and that is simply the preliminary initiation to what One Folgate Street can do.  It almost seems too convenient, efficient and economical to be true.  Then Jane meets Edward.
The "girl before" is Emma.  She is recovering from an assault and needs a fresh start, a new home.  Together with her fiance, Simon, she moves into One Folgate Street.  There is some comforting allure to the clean space and the rules one must follow-an ordering that Emma desperately needs.  There is also some attraction to Edward.
The Girl Before is another great new thriller.  It is like The Life Saving Magic of Tidying Up collided with Girl on the Train.  I've got to say, the temptation presented is tantalizing! At the end of the endless winter here in Falmouth, the house in need of a good decluttering, me in need of some sunshine…the idea of living in a beautifully ordered clutter free house that anticipates my needs seems pretty wonderful to me too.  Perhaps a little vicarious living…the tension builds as Emma and Jane are sucked deeper and deeper into the house and it's maker's game. Both Emma and Jane make some dumb choices–I kept thinking there was a way they could live in the cool house without being a fool–but that doesn't dim the story.   I read peeking out behind my covered eyes.  (Another weekend the family was glad I discovered Whole Food's crock pot kits!)
This is the first novel written under the pseudonym JP Delaney, who in private life is a British advertising agency creative director with several other books under his belt. (see New York Times February 3, 2017 for more.)  I am not sure which he considers his day job at this point, but I am pretty sure I would buy anything he advertised.  Delaney really has a finger on attraction and desire.
Fresh starts and new chances, deals that seem to good to be true, suave, addictive characters…and becoming a movie directed by Ron Howard!  The Girl Before makes a great addition to your "Hold" list!
And coming in 2018…