Eleanor Oliphant is Completely Fine by Gail Honeyman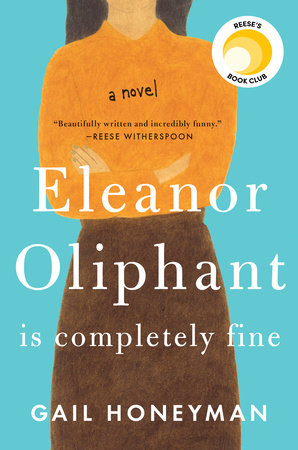 Gail Honeyman has just published a gem of a debut novel:   Eleanor Oliphant is completely fine.  This unique story and its characters will linger with you long after you turn the last page.  Before I tell you that Eleanor's life to date has been one of profound loneliness, I ask you to imagine a few other fictional characters:  Ove, Doc Martin, Bernadette, Sherlock.  There is an endearing charm amid their quirks, as you will find as you get to know Eleanor.  Plus, much of her running interior monologue is spot on hilarious.
Eleanor works as a bookkeeper in a Glasgow office, dresses practically (black Velcro work shoes, hasn't cut her hair since she was 13, no make up…), and has no real friends or family.  Her face is scarred from a fire.  A bit of an outcast, Eleanor flies under the radar, aims to be unnoticed, but sadly, is the butt of many an office joke or snide comment.  She misses most social cues, says most of what pops into her head, and yet keeps a talented wit about her– a true challenge given her solitary circumstances and memories of her difficult childhood (her mom is a real peach).  When she and a coworker, Raymond, help a man hit by a car, they develop a friendship that is honest, touching, charming and redemptive.
From the Guardian:  Given the number of books about dementia, memory loss and other mental health issues, it is surprising that it has taken profound loneliness this long to take centre stage. It is, after all, by many accounts one of the great scourges of our age, when everyone is meant to be having the most amazing time eating avocados with their friends on Instagram.
Eleanor Oliphant is completely fine is soon to be a movie produced by Reece Witherspoon…but read the book first!