Saints for All Occasions by J. Courtney Sullivan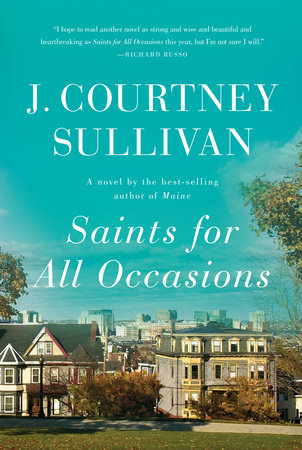 I am a fan of J. Courtney Sullivan's novels:  Commencement, Maine, The Engagements and now Saints for All Occasions. Sullivan's books are novels I become invested in, with characters for whom I  grow to care.  While I would love this author to be one who publishes each year, her books are worth waiting for.  Saints for All Occasions is no exception.
Nora and Theresa are two sisters in a big Irish Catholic family.  They leave their little village in Ireland to make a life for themselves in the United States in the late 1950s.  Nora is following a man she likes but doesn't love, Charlie Rafferty, into an arranged marriage, and bringing her sister for company.  The two settle, get jobs, and frequent the dance halls popular at the time.  Theresa ends up pregnant, and gives birth at a home for unwed mothers.  Nora and Charlie quickly marry and raise the child as their own.
In 2009, the family is gathering to bury Patrick, Nora and Charlie's eldest son.  As each member of the family receives this tragic news and travels home for the funeral,   we get to know Nora and Charlie and their children.  The story alternates somewhat seamlessly between past and present so that by the end, we are rewarded with a full understanding.
Why do I recommend this novel?  There are plenty of stories of Boston Irish Catholic families, complete with their function and dysfunction, their compassion and their secrets, even their misunderstandings.  Saints for All Occasions, however, grabs you.  It documents many real lives in a specific, fictional way, and offers a distinct definition of family.  The characters are authentic, the writing is excellent, the story has staying power.  Time with Sullivan's latest novel will be time well spent!