Seven Days of Us by Francesca Hornek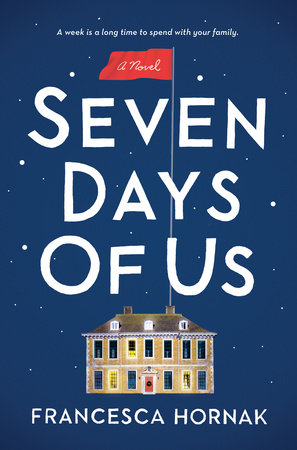 It is Christmas at Weyfield Hall, the worn country estate of the Birch Family.  Andrew and Emma and their grown children, Olivia and Phoebe, are gathering for some time together over the holiday .  The twist to this time away is that they will be under quarantine.  Olivia is a physician and has just completed a medical goodwill mission in Liberia, tending to patients with a highly contagious virus called Haag.  Though she left healthy, the precaution each doctor takes is to remain secluded for seven days once they are home.  The Birch family is spending those days together.  Emma looks upon the week as a challenge–almost a game–planning meals and books and family game nights.  Anything to distract her from the cancer diagnosis she just received.   Andrew is about to be surprised by the appearance of a son he did not know he had.  Phoebe is absorbed by her fiance and wedding plans, and even Olivia's mind is elsewhere, longing for the company of one of the physicians she worked with in Liberia.
Seven Days of Us is a well written read, perfect for a weekend, a vacation, or just some down time from all that takes our time and attention this winter.  Chapters alternate between different characters, the plot is interesting and well-paced, and I found I cared about the characters and their outcomes.  The twists and caveats to the week make this an easy novel to dive into and stay with for the duration.  If you like modern novels about family dynamics, give Seven Days of Us a shot.