White Houses by Amy Bloom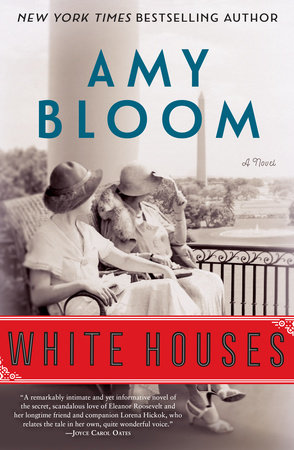 White Houses may be categorized as historical fiction, but it is a love story…the love story of Lorena Hickok and Eleanor Roosevelt.  Their relationship has been fodder for speculation for years.  Ken Burns says we cannot prove they were any more than friends, but author Amy Bloom, who read the remaining 18 boxes of correspondence between the two women, says there was much more to these two women and their friendship.
White Houses takes place over a weekend after the death of Franklin D. Roosevelt.  Eleanor and "Hick," as Lorena is nicknamed, are together at an apartment as Eleanor begins to grieve.  Hick looks back at her upbringing, remembering her cruel and impoverished childhood, her early years as a journalist, the years she and Eleanor were together, and the years they were separated.
Told from Hick's point of view and based on the thousands of letters she and Eleanor wrote to each other, this novel is almost more of a meditation on the different kinds of love and friendship than an imagined memoir or tell-all.  There is a wisdom that can be applied to many relationships:  platonic, intellectual, romantic, passionate.   We benefit from our own understanding and assumptions about Hick and Eleanor, Franklin, his mother, Missy, Lucy, the Roosevelt children.  Truly, one of my favorite parts of historical fiction is starting with what I know and being changed by the emotion and characterization of a novel.  I love when historical fiction sends me back to the stacks for a biography or documentary, or to good old Google, as White Houses did.
Bloom is a talented writer, with beautiful prose that provokes at every turn.  Her style mimics Hick's personality effectively.  I recommend adding White Houses to your TBR pile.
Photograph from The Boston Globe
Photograph from Getty Images