Whispers Beyond the Veil by Jessica Estevao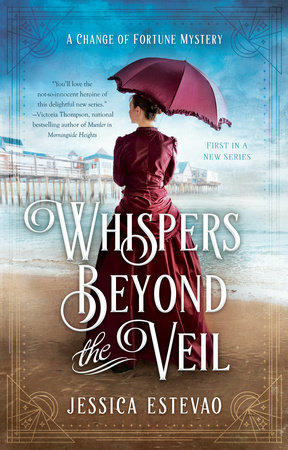 Ruby Proulx and her widowed father travel with medicine shows in the early 1900s.  Mr. Proulx touts "healing" remedies and often loses his profits through bad investments or even worse life choices; Ruby reads tarot cards.  Unfortunately, the two are always on the run, changing their identities and locations to outrun the last bad deal.  When Mr. Proulx invests everything they have in "The Invigorizor" and kills the young man they try this contraption on, father and daughter separate and escape.  Ruby heads to her aunt's hotel in the newly developing Old Orchard Beach and Pier. Aunt Honoria's hotel caters to "Spiritualists" and Ruby's skills as a card reader can be immediately put to profitable use.  She even tries to replace the medium who just left.  When a guest at the hotel turns up dead on the beach, the townspeople become suspicious of who Ruby really might be.  Can Ruby outrun her past? Can she help her aunt and establish a life where she can stay for awhile?
I've definitely been enjoying this historical fiction mystery genre lately, and was drawn to a story set in Old Orchard Beach.  There is just something about Old Orchard Beach…a few years ago, we had a very full outdoorsy summer, hiking, camping and spending many an afternoon and evening on Maine's Beaches, from Old Orchard to Acadia.  At the end of the summer, we were remembering our favorites, and one high point was a super hot day we spent on a crowded beach near the Pier, with a powerful ocean and undertow limiting us to wading amongst throngs of hot vacationers, sandy fingers reaching for Pier Fries on one hand and fending off sea gulls with the other, and a steady stream of interesting people to watch.  It was by no means my idea of an iconic Maine beach day, but there was something very satisfying and entertaining about it!
In Whispers Beyond the Veil, the setting is ultimately just a back drop; we could easily be at the Hamptons or the Jersey Shore, but I liked being someplace in Maine.  While Esteveo lives in New Hampshire, she summers on the coast of Maine, and it is easy to believe she knows the Pier and the beach well.  The first half of the book is a get to know the main characters and the setting; I think future books in this series will pick up more quickly.
The other element that caught my attention was the Spiritualist aspect of the story. It felt a little Fantasy Islandish as I was reading so I began to do a little research to learn more about Spiritualists at the turn of the 20th century.   I also leaned a bit about Spiritualists…TODAY!  There are camps and churches and communities all over Maine, and Old Orchard still has its share of mediums.
Below, a couple of pictures of the Pier and Old Orchard Beach circa the time this novel takes place:
photo from www.oobpier.com/history
photo from www.oldorchardbeachmaine.com/history
All in all, Whispers Beyond the Veil was a fun read.  Ruby seems like a character I will want to continue to know, so I look forward to the September 2017 publication of Whispers of Warning, the next offering in the Change of Fortune Mystery Series.